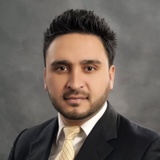 The Armas Brothers
Carlos Armas
Real Estate Services
Whether buying or selling, I go above and beyond what is expected of me and constantly strive to exceed my clients expectations.
I am committed to each and every client. I understand that buying or selling your home can be a stressful time and I am there to guide my clients through the entire process.
I have extensive access to resources from client needs, and my dedication to the real estate profession allow me to provide superior service. My passion for my clients assures my clients the time and service they deserve.
Read more
6 recommendations