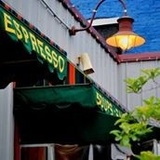 Sven's owner, Steve Goretzko, started roasting coffee in 1989 when he partnered with George Voglis in West Allis, WI.
Soon the partners moved the coffee roasting operation to Butler, WI after rapid growth. Soon after, Sven's Organic Coffee Co. was started with special attention given to fair trade and organic coffee. It is said that Sven's was the first in Wisconsin to specialize in fair trade and organic coffees. Sven's Coffee can be found in supermarkets and cafés throughout the mid-west.
After several successful years of operating our coffee roasting business, we decided to open our own café in Bay View, WI. Sven's Café is a true European Café Experience much like that of Steve's hometown of Berlin, Germany.
Sven's roasts coffee the old world way, using Probot and Gothot German roasters that roast 60 - 130 lbs. of coffee at a time.
We buy only top quality beans to roast and are happy to share our experience in coffee with everyone.
We put our many years of experience in each and every cup of coffee.
Enjoy!
Read more
6 recommendations