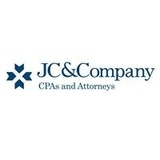 JC&Company CPAs and Attorneys
John Chung
Attorney, Tax advisor
JC&Company is a professional firm committed to serving the needs of our clients. Our team of dedicated CPAs and Attorneys have an intricate understanding of the complexities of your business needs.
Since 2009, we have worked with individuals and corporations including publicly traded companies as well as a wide range of privately held companies. Through our network of offices across the country and overseas, and our collective resources and expertise, we have been providing excellent and individually tailored service to our wide range of clients.
A professional firm is known for the quality of its service. We are professionals who were trained as core members of the management team in major U.S. professional firms for over 20 years. We make certain the quality of our services at the highest standard but at much flexible and affordable fee structure.
Read more
1 recommendation