You asked for more flexible service listings, and we got to work. Today, we're revealing three new major features that will improve the accuracy of your bookings so your services go off without a hitch.
Whether you're a cat sitter, piano tuner, or jewelry designer, we know there's more to your services than a description and price. You may need information from potential customers like Scruffy the Cat's meal times, the brand and size of the piano, or the name to engrave on the pendant necklace. You may also need to add extra fees, like your charge for administering a medication to Scruffy or your fee for rush-shipping that custom pendant (those birthdays always sneak up out of nowhere!).
Whatever extra details your business requires from clients and customers, whatever questions you need to ask first-timers and loyalists: Recommended can now handle all of these particulars for you.
Here's the rundown of the new features, with just a few examples of the myriad ways you can use them.
Base Pricing: Fixed, Multiple, or Unit
You can now choose from three types of base price settings for your services, depending on the nature of your business: fixed prices, multiple prices, and unit prices.
Fixed Prices: Set a single base price. For example, if you offer a Swedish massage for $50, enter just that.
         
Multiple Prices: Offer multiple base prices for your service. For example, if you make custom pendants, this allows you to set different prices for each pendant size you offer.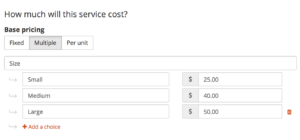 Unit Prices: Define a unit for your service and allow clients to choose their desired quantity. You can set minimum and maximum order quantities. For example, if you're a house cleaner, you may want to limit the number of hours (your "unit") to 8, so all cleaning jobs can be completed within a single day.
Pricing Customizations
You can now add as many pricing customizations as your services require, choosing between custom options (where there can be only one selection from a drop-down menu) and add-ons (which allow multiple options to be selected at once).
Pricing customizations needn't be associated with a higher price (for example, you may charge the same rate to fix either a Honda or a Toyota), but if there is a cost associated with them, customizations are always in addition to the base price.
Additionally, you can set the order of customizations. For example, if you run a car repair shop, you can first ask for the customer to select the make of their car, and then select the model.
Here are the two different customization types in detail:
Custom Options:
Custom options give customers a single-choice drop down menu. A customer can only pick one option that applies to their service. For example, your custom option could be "Pick the leg you want your tattoo on," and the answer must either be "left" or "right." The same logic applies to a customer's tax filing status, hair color … you get it.
Add-ons:
Add-ons are essentially one or more "checkboxes" you can add to any service. They allow the client to select none, one, or more than one option. You can set additional charges for each choice.
For optional individual fees and charges where there is only one option, like a rush-delivery fee or the option to add a tire rotation to an oil change, create an add-on with one choice and one price.
For extra costs that require a customer to select one or more options out of multiple choices, as is often the case with house cleaning (a customer might want to tack on oven and fridge cleanings to their regular service), just list each option alongside the extra fee it will add to the customer's bill.
Additional Questions
Sometimes you may need a customer to answer a question that requires a write-in response or a response that simply doesn't work well with predetermined options in a drop-down menu. The Additional Questions section was developed to address this need. Just write the question that you need the customer to answer, and a response will be required prior to booking.
Like what you see? Add a new service now, or update an existing one! Go to your profile page, click on "Edit Your Profile," and click on "Services" on the left menu.
If you're not sure how to make these features work for your business needs, we'd love to help. Send us a note at [email protected] and a member of our team will work with you to get it right.