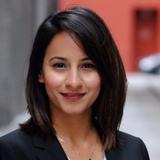 White Summers
Zainab Abdullah
Corporate Associate, Silicon Valley
As a Corporate Associate at the firm's Silicon Valley office, Zainab counsels technology startups and entrepreneurs on incorporation, early stage financing, intellectual property protection, technology licensing, commercial partnerships and various other corporate transactions.
After graduating from Harvard Law School, Zainab moved to​ the Bay Area to bring her diverse experiences to the exciting world of technology startups. Prior to joining White Summers Caffee and James, LLP, Zainab worked at a boutique San Francisco law firm specializing in corporate law and technology transactions for early-stage companies. She enjoys understanding the underlying technology of the businesses she advises to provide both creative and effective solutions. Zainab's professional experience ranges across multiple emerging markets including working as legal counsel for KOMAZA, a social enterprise in Kenya, and as a litigator in Pakistan, where she was born and raised.
Education:
Harvard Law School '2013. Masters in Law, LL.M.
University of London' 2009. Bachelors in Law, LL.B. Honors
Bar Admissions:
California
Read more
1 recommendation
We've been working with her since last year and we're really happy. She has helped our startup during c-corp formation and stock re-purchase from vested shares of employees.