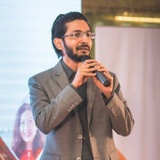 Saidur Mamun Khan Marketing Operations
I am a tech/saas marketing specialist, living and breathing the sharing economy and online work industry. Over the past 11+ years, I have been engaged in different marketing/operations roles at local and international organizations, and also consulted for numerous clients spread across North American and APAC countries.
​My client and employer lists include Upwork, WeWork, Google Metaweb, Facebook, Grameenphone (Telenor), and many more.
Areas of expertise:
- Account-based marketing
- B2B lead generation
- Marketing data augmentation/operations
Read more
5 recommendations