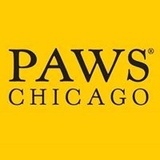 Paws Chicago
Pet adoption shelter
Once safe at PAWS Chicago, every pet is treated as an individual and guaranteed life, no matter where they come from and what they need.
Founded in 1997, PAWS Chicago is Chicagoland's largest No Kill, humane organization, focused on transforming the old "cage and kill" method of sheltering to a model that guarantees life to homeless pets.
As a solutions-based organization, PAWS Chicago operates the state-of-the-art Lincoln Park and North Shore Adoption Centers where every animal in its care is given the PAWS guarantee of life and all needed medical care. PAWS Chicago also operates the Lurie Spay/Neuter Clinic and GusMobile mobile spay/neuter van, which perform more than 18,000 free and low-cost sterilizations annually in low-income communities, preventing unwanted pets from being born. Since PAWS Chicago's founding, the number of homeless pets killed in the city has been reduced by 77 percent ―from 42,561 pets killed in 1997 to less than 10,000 2014.
Read more
6 recommendations