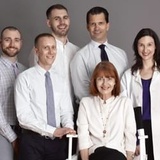 Mohawk Village Medical
Primary Care Medicine
Dr. McNiff opened his solo practice in 2009, while working out of multi-physician office on W 14 th St. He then began seeing patients at our current office in 2011. Dr. Godwin joined the practice in 2013, which prompted the renaming of our office/medical group.
Our name is an homage to an umbrella of businesses owned and run by Dr. McNiff's father in Shirley, Massachusetts. There was the infamous Mohawk Club (where many established acts performed from the 1950's through the 1980's), Mohawk Village Apartments, Mohawk Village Motors, and the Mohawk Gift Shop.
We strive to do things completely differently than what is typically expected of other practices (long waits, difficulty booking same day appointments, rude staff, etc.), and always go above and beyond to serve our patients' needs. The "Mohawk," affirms our stance on changing the perception of Primary Care Medicine. We perform all blood draws on site so that our patients don't have to go to an external lab, and this also allows us to receive all lab results as soon as they are finalized through our interface. The same day final test results are ready, they are sent to you through our Patient Portal. We are also in the process of achieving Patient Centered Medical Home accreditation (
http://en.wikipedia.org/wiki/Medical_home
), which takes these values even further.
Read more
6 recommendations