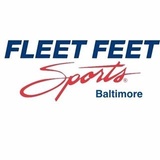 Fleet Feet Sports Baltimore
Running Store
Bobby Levin – Co-owner, accessory buyer and business manager. Bobby has been a running, exercise and health enthusiast for over 30 years. He has completed 27 marathons and innumerable races including Boston (2006, 2008). Coming out of an educational administration and legal background, Bobby is our running shoe, nutritional, and injury prevention specialist and guru!
Karen Levin - Co-owner, Newsletter writer/website specialist, and apparel buyer. Karen has completed 29 marathons, innumerable races including Boston (2006, 2008) and Big Sur (2014) and is the Baltimore Program Director of the Jeff Galloway Marathon/Half Marathon Training Program. A former teacher and school administrator, Karen is proud of her accomplishments in bra fit, apparel buying, and prevention of injury stretches!
At Fleet Feet Sports Baltimore, we are blessed with a team of people who are committed to working hard every day with every customer in an "Above and Beyond" way. We hope you always enjoy your experience in the store and feel comfortable just stopping in to get to know us better, ask questions, and get engaged in all the activities that occur at the store and in our community.
Read more
5 recommendations