Recommend your most trusted businesses and earn Credits to spend on them.
Starting now, get exclusive discounts to your favorite businesses when you make recommendations.
We're rewarding you for your contributions as a way to say "thanks" for spreading the word about the best businesses!
Earn Credits with every recommendation you write, and then apply these Credits to services booked through GetRecommended.com. $1 Credit is equal to $1 discount — it's as simple as that.
How do you earn Credits?
It's easy. Just make a recommendation. You'll earn based on the following schedule:
$5 Credits for your first recommendation

$10 Credits for your second recommendation

$15 Credits for your third and all following recommendations
There's no limit to the number of Credits you can earn, but they expire in 90 days and are non-transferable, so don't forget about them!
What if you've already made recommendations?
Then you've got Credits waiting for you in your account! To check your Credits balance and history, log in to your account, and then click on your Credits balance at the top of the screen. It will look like this:
How do you "spend" Credits on Recommended?
When you book a service directly on GetRecommended.com, any available Credits are automatically applied to your purchase.
Popular services available for instant booking include:
One-Time Financial Planning Consultation from Greg Meyer at New Wave Financial Services.
Daily Instagram Management from Caitlyn Reyes Trejo.
Website Design from Commite, which includes 4 to 6 pages for $3,000.
U.S. Trademark Application from Scott Nyman at Nyman IP, which is available nationwide for $1,075.
How do you "spend" Credits on services listed on Recommended but booked elsewhere?
For services that are listed on GetRecommended.com but where the purchase takes place on the merchant's website, simply upload your receipt to your account and you'll be reimbursed within 7 business days.
Some of the most popular of these services include:
2-Person Meal Delivery from Blue Apron, which is available nationwide and starts at $9.99 per person.
12 Months of Training with Jillian Michaels, which is available for instant download for $89.99.
Modern Flower Bouquets from BloomThat, which are available for delivery nationwide and start at $35 per bouquet.
Lawn Mowing from Lawn Love, which is available nationwide and starts at just $36.
Nail Art Online Class from Brit + Co, which is available instantly online for $9.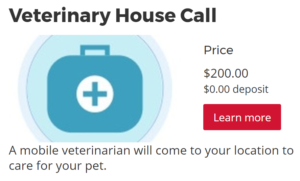 Veterinary House Call from VetPronto, which is available for $200 (San Francisco residents only).
We're only getting started!
This is just the beginning of our Credits program. Stay tuned for more ways to earn Credits in the near future.
Until then, make some recommendations now to start earning!
Questions? Check out the Recommended Credits page for more details, or email us at [email protected].