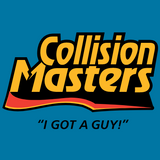 Collision Masters LLC
Auto Collision, Painting & Glass Repair
Here at Collision Masters, we believe that it is your car, your claim, and your choice.
Our experienced team of collision repair specialists are reminded of this with every vehicle brought to our shop. From the time you choose our facility to the moment you pick up your car, we will do whatever is necessary to give you the utmost confidence in your vehicle.
Our staff knows how important your vehicle is to you. It's your primary mode of transportation and how you accomplish life's daily responsibilities. We are as concerned as you are about safety, superior maintenance, and efficient repairs. Every vehicle is repaired to OEM specifications and is backed by a lifetime warranty.
Read more
View all
Recent work
4 recommendations