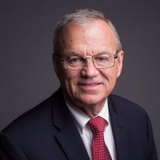 Brown Financial & Insurance Services
Brad Brown
Life Insurance Broker
Brad has helped families with wealth strategies helping ensure their wealth and businesses are transferred from one generation to the next.
Brad works with your estate planning attorney & CPA with high integrity & professionalism in a team effort with your personal & family objectives in mind.
Since 1973 Brad has run a full-service company helping individuals with their retirement planning, estate conservation, & medical benefits(from individual to group plans including dental, 401k, long-term disability & long-term care plans).
Read more
3 recommendations
Facebook Google LinkedIn Verified

I have a great recommendation for you to someone is very experienced and knowledgeable about life insurance.

Recommended for

My wife and I have had the pleasure of working with Brad for many years. Brad is always well prepared and ready to show us all of our options and the pros and cons of each, he works with us understand how we can reach the point we want given those options. We have come to count on Brad for critical decisions regarding choices that affect our future financial stability. He and his team are great to work with.

Original recommendation

I have worked with Brad for over 5 years and am impressed with his professionalism and diligence. He reviews my financial condition on an annual basis and maintains the appropriate level of contact.

Original recommendation