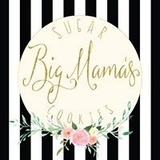 Big Mama's Sugar Cookies
Cookies Baker
Big Mama's Sugar Cookies is a home based business with a licensed kitchen, locally owned and operated in San Ramon, California.
We offer custom decorated sugar cookies, cake pops, cupcakes and treats that are fun and delicious. Everything is baked to order and guaranteed to make someone's day sweeter.
We'd love to hear your ideas for your event and create something special for you.
Read more
6 recommendations